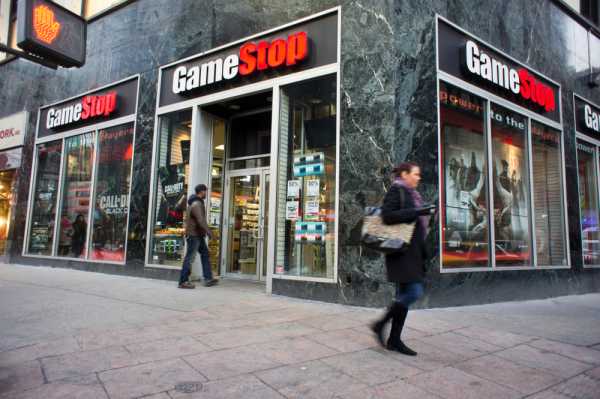 GameStop, one of the best-performing stocks this year, continued its rally heading into the new year thanks to its adoption of cryptocurrencies.
GameStop Now Accepts DOGE and SHIB
The company behind the popular meme stock GameStop announced earlier this week that it would start accepting Dogecoin (DOGE) and Shiba Inu (SHIB) as payment options for its products and services.
GameStop partnered with cryptocurrency payment processor Flexa to start accepting cryptocurrencies for payment of its products and services. In addition to Dogecoin and Shiba Inu, GameStop also accepts a few other cryptocurrencies, including  Bitcoin, Litecoin, Ethereum, Axie Infinity Shards (AXS), Decentraland ($MANA), and Smooth Love Potion (SLP).
The company is one of the top-performing stocks since the start of the year. Over the past 12 months, GME's value has increased by more than 700%, outperforming numerous stocks in the process.
The rally was fueled by Reddit and other meme stock investors, with GameStop grabbing headlines earlier this year. The company announced earlier today that disc drive-equipped PlayStation 5 and the Xbox Series X are now available in its stores across the United States.
The company has partnered with numerous outlets across the country to stock PlayStation 5 and Xbox Series X heading into the holidays. The gaming consoles are usually high in demand during this period as people buy and present them to their loved ones as gifts.
GME Could Rally Higher
GME has been rallying over the past few hours, adding less than 2% to its value as the United States market opens. At press time, GME is trading above $5152 per share, up by less than 1% so far today.
GME's MACD line is below the neutral zone. Source: FXEMPIRE
The stock's technical indicators show that GME is still underperforming following weeks of poor performance in the market. The MACD line is below the neutral zone, while the RSI of 35 shows that GME is still oversold. At press time, GME is trading below its 50-day moving average of $183.
However, if GME can maintain its current momentum, then it could break past the first major resistance level at $170 over the next few trading sessions. An extended market rally would allow it to aim for the $183 psychological level before the end of the year.