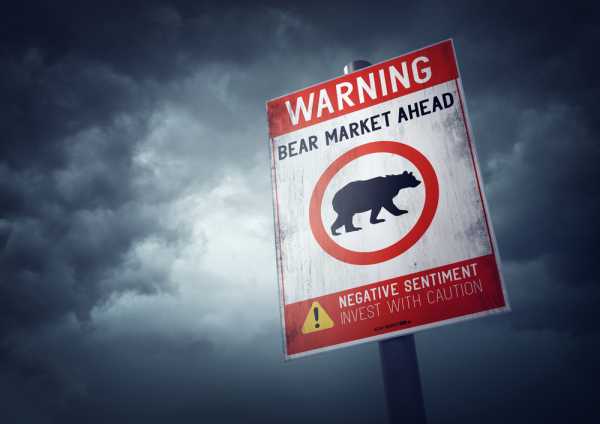 The prices of most cryptocurrencies have dropped by nearly 50% in recent weeks, sparking fears that the bull cycle is over and we are at the beginning of a bear market. Analysts at JPMorgan already think the bear market is close.
The Bear Market is Here
JPMorgan strategists have revealed that they think the Bitcoin bear market is getting closer. The leading cryptocurrency's price has been stuck below the $40k region for the past few weeks and has struggled despite some positive news in the market.
JPMorgan strategists led by Nikolaos Panigirtzoglou said, "We believe that the return to backwardation in recent weeks has been a negative signal pointing to a bear market." The analysts added that Bitcoin's relatively depressed share of the total cryptocurrency market cap is another trend that indicates that a bear market might be close.
The strategists based their analysis on the 21-day rolling average of the 2nd Bitcoin futures spread over spot prices. They stated that the backwardation displayed is an unusual development, and it reflects how week Bitcoin demand is from institutional investors at the moment. The analysts pointed out that in 2018 when Bitcoin's price plunged by 74%, the Bitcoin futures curve was also in backwardation.
Bitcoin has lost a chunk of its market share to altcoins. The leading cryptocurrency currently accounts for roughly 40% of the total crypto market cap, down from 70% at the start of the year. According to some analysts, retail investors shifting to altcoins is another sign that the Bitcoin bear market is close.
BTC/USD chart. source: FXEMPIRE
Bitcoin's Price Still Trading Below $40k
Bitcoin's price has been struggling for the past few weeks. The leading cryptocurrency's price is trading below $40k despite the wave of positive news in the market recently. El Salvador became the first country to officially adopt Bitcoin as a legal tender ad more Latin American countries are looking to make similar moves. The crypto space is also gaining fast adoption, with numerous institutional entities like Interactive Brokers and Victory Capital coming into the market. With the prices still down, it would be interesting to see how the market performs in the coming days and weeks.