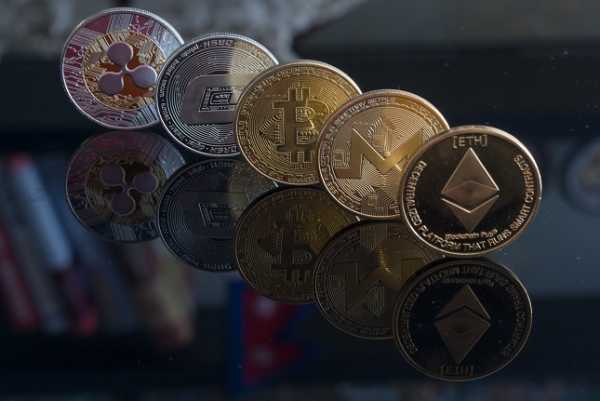 It was a second consecutive day in the red for broader crypto market on Thursday. Market reaction to the FED's forward guidance on monetary policy continued to weigh on riskier assets.
Bucking the trend on the day, was Bitcoin (BTC), which bounced back from the deep red to end the day in positive territory. Continuing to avoid a fall back to Monday's current month low $32,937, Bitcoin rose by 0.94% to end the day at $37,194.
Bitcoin's recovery came after the U.S market close, with the U.S futures delivering late support.
Bitcoin and the NASDAQ
Market movement through the U.S session tracked the NASDAQ 100, which slid by 1.40% on the day. Upbeat economic data from the U.S failed to distract the U.S equity and the crypto markets. Better than expected 4th quarter GDP numbers for the U.S supported FED Chair Powell's view that the U.S economy could withstand multiple rate hikes in the year.
In the 4th quarter, the U.S economy grew by 6.9%, accelerating from 2.3% growth in the previous quarter.
Elsewhere in the crypto market, Cardano (ADA) and Solana (SOL) slid by 3.15% and by 2.83% respectively. Ethereum (ETH) and Ripple (XRP) also struggled, falling by 1.59% and by 1.83% respectively.
From the crypto top 10, Terra (LUNA) had the biggest loss on the day, however, tumbling by 8.58%.
The Bitcoin Fear & Greed Index
A choppy week for Bitcoin has had little influence on the Bitcoin Fear & Greed Index, however. Having fallen back to 11/100 on 23rd January, the Index climbed to 24/100 on Thursday.
The index currently sits in the red, reflecting the market's bearish sentiment. A move back through to 30/100 and into the orange would reflect any shift in sentiment and a buying opportunity. Back in November, the Index had risen to 84/100 on 9th November before hitting reverse.
Bitcoin Price Action
At the time of writing, Bitcoin was up by 0.38% to $37,336. Avoiding the day's $36,658 pivot would bring the first major resistance level at $37,811 into play. Bitcoin would need plenty of support, however, to breakdown resistance at $37,500.
A fall through the day's pivot, however, would bring the first major support level at $36,040 in play. An extended sell-off would bring sub-$35,000 levels into play once more, however. The second major support level sits at $34,887.
Looking at the EMAs, the signals remain bearish. The 50-day EMA continues to pullback from the 100 and 200-day EMAs, with a bearish cross of the 100-day EMA through the 200-day EMA also negative.
Looking at the U.S Futures, however, the NASDAQ 100 was up 136.25 points, a positive signal for Bitcoin and the broader crypto market.